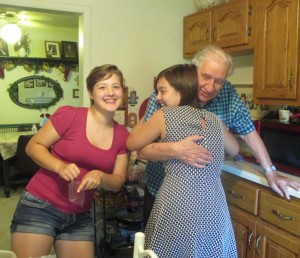 We all need words of hope and encouragement for busy times today.
To the gals and guys who get my newsletter—this one's for you personally! Whether you are parents, child, family, friend, neighbor, or caregiver; I want to share some personal words of hope with you.
Today I want to offer much-needed encouragement.
Whether you are at ease in Zion right now and you have life in hand or you are stretched and stressed to the limit, this one is for you.
Maybe you know me real well and know where I'm going with this column. Perhaps we have never met (yet) and you are ready to quit reading! I know the "I don't have time for this" feeling! Well, hang on and let's see where we end up!
You really are important to me.
First, I want you to know you really are important to me as an individual. The very fact that you made time in your busy life to sign up for my newsletter is a blessing! The few minutes you allow reading my ramblings could probably be used in many other ways; I thank you for giving me space in your day.
I pray for you when you leave a personal note.
Secondly, this column is to thank those of you who have taken your precious time to drop me a note. It's helpful to know what you are dealing with and how an article has helped you in some way. It also gives me direction as I prepare to write each week. I read each one carefully and prayerfully.
You are a caring friend as you share with others.
A special "thank you" goes to you who have forwarded the newsletters on to others in your circle who need encouragement. What a caring friend you must be to be sensitive to the needs of those around you.
Here is the bottom line:
Today I prayed for you—individually, by name or by e-mail address, as I went down my list. I do not know each of you and some I do not recognize by your e-mail addresses. (By the way, some of you are certainly creative in that respect, I could never guess who-or what- you were!)  
For your times of doubt and frustration, I prayed from Proverbs 3:5-6 that God would help you "trust in the Lord with all your heart and lean not to your own understanding … ".  
For assurance I prayed for you from John 3:16 that you would remember "for God so loved the world (YOU) that He gave … ". I hope you have learned to personalize God's Word; put your name in the verse; He wants you to know He loves you!
It was an honor and blessing to pray individually for you today.
How exciting to experience the richness of God's family working together to care for one another. I challenge you to keep on working, hoping, praying for others as we learn together how to be encouragers in our world.
Hugs,
Have you watched my Book Trailer to the right of this article? That's my precious momma!  Feel free to share this with a friend who needs a little hug today! Check out my store tab or Amazon.com for My Mother My Child.